Baskin-Robbins Launches Oreo Independence Ice Cream Flavor
Posted on May 21, 2014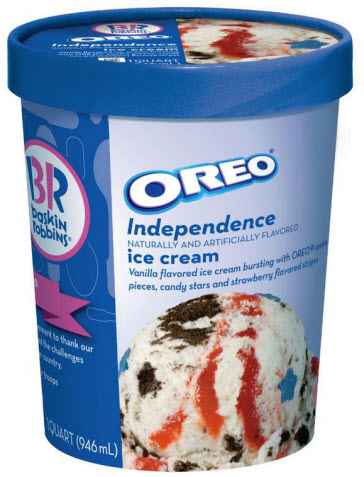 Baskin-Robbins has launched a new ice cream flavor called Oreo Independence. Baskin-Robbins partnered with the USO to honor America's troops and families and launch the new flavor. The vanilla-flavored ice cream is swirled with Oreo cookie pieces, candy stars and strawberry-flavored stripes. The new flavor will be through September, while supplies last.
Baskin-Robbins is supporting the USO's "
Every Moment Counts
" campaign and is encouraging guests to send a thank-you message to U.S. troops at home and abroad. Baskin-Robbins will also be donating 400 3-gallon tubs of ice cream in support of USO events taking place throughout the summer.
Photo: Baskin-Robbins
More from Shoppers Shop