Huffy Redesigns Its Green Machine
Posted on May 18, 2010
Huffy Corporation gave its Green Machine a sleek new design in 2010. Using two stick shift-type levers, the rider controls the steering and braking action for 180 degree spins and slides. The rider also has a new extra wide front tire with semi-slick tread. The tire was added for improved steering traction. The bike now boasts futuristic Vapor Green components on the frame, wheel spokes, pedals and grips.
"Since the 1960's, the Green Machine has thrilled kids of all ages. It is the perfect product for thrill-riders," said Ray Thomson, vice president of marketing for Huffy. "It's great for family fun. Nearly anyone can ride it. Videos posted on our website and YouTube show teens, adults and kids of all ages having a great time showing off their styles of sliding and spinning the Green Machine."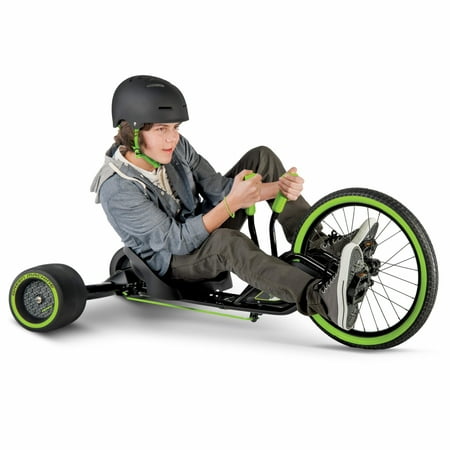 The Green Machine RT (pictured) features dual-stick steering, rear wheel control, quick-adjust bucket seats and a 20-inch pneumatic tire with green sidewall. It is available at Walmart.com.
Here's a video of the Green Machine in action.
More Interesting Products