Macy's to Add Toys R Us Shops in Every Store
Posted on August 4, 2022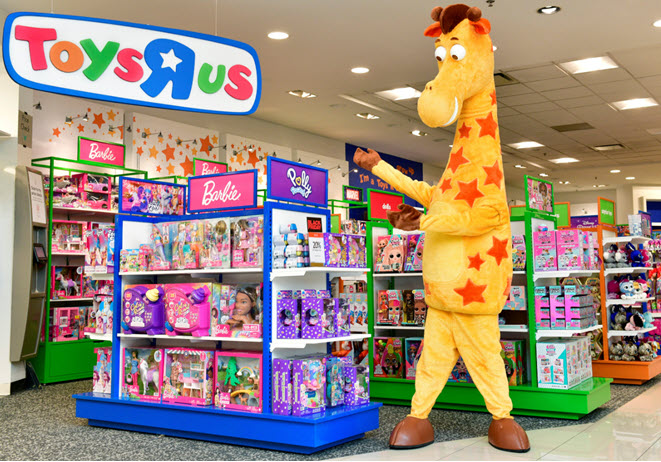 Macy's is launching Toys R Us in-store shops inside every Macy's store. The shops will range in size from 1,000 square feet to 10,000 square feet. The larger shops will be inside Macy's big flagship stores.
Macy's says the total footprint of the Toys R Us shops may be expand 500 to 3,000 square feet more during the holiday season. The Toys R Us mascot Geoffrey the giraffe is pictured in the above image supplied by Macy's. He's pointing towards the Barbie and Polly Pocket displays.
The stores will open from late July through October 15th.
Nata Dvir, Macy's chief merchandising officer, says in the announcement, "Macy's cannot wait to bring the Toys'R'Us experience to life in our stores. We hope Toys'R'Us kids of all ages discover the joy of exploration and play within our shops and families create special memories together. The customer response to our partnership with Toys'R'Us has been incredible and our toy business has seen tremendous growth."
Macy's stores will host nine days of in-store events to celebrate the openings of the Toys R Us sections. The in-store events will run from October 15 through October 23. They will include family friendly activities and daily giveaways from brands like Barbie, LEGO and more.
Macy's also teamed up with Toys R Us for the 2021 Geoffrey's Hot Toy List last year so we expected them to do it again for 2022.
Some of the Toys R Us products can also be shopped online at macys.com.
Image: Macy's
---
More News from Shoppers Shop