Walmart to Reduce Traffic in Stores for Coronavirus, Make Aisles One-Way
Posted on April 3, 2020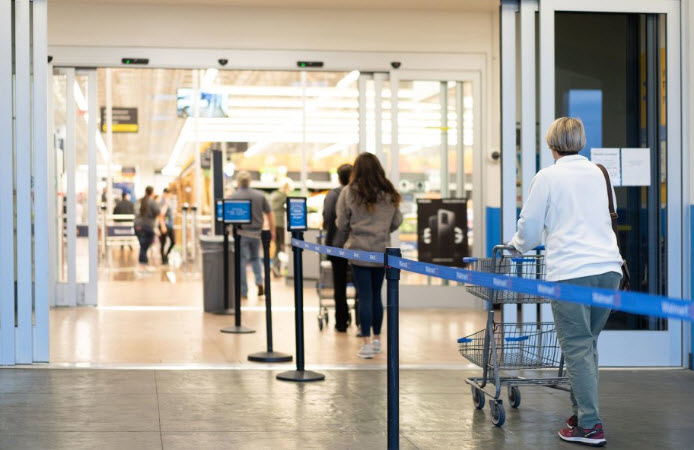 Walmart has announced significant changes to how its stores will operate because of the coronavirus. The idea is to put social distancing concepts in place inside the stores. The changes include regulating store crowds and changing aisles so that they are one-way only.
Walmart says in a press release that some of its customers are not properly following social distancing safety precautions.
While many of our customers have been following the advice of the medical community regarding social distancing and safety, we have been concerned to still see some behaviors in our stores that put undue risk on our people. We want to encourage customers to bring the fewest number of people per family necessary to shop, allow for space with other customers while shopping, and practice social distancing while waiting in lines. We're also seeing states and municipalities set varying policies regarding crowd control – which has created some confusion regarding shopping.
Walmart says its stores will allow only five customers for each 1,000 square feet of store space at a time. The retailer says this is about 20% off a store's total capacity. If the store has met this capacity then additional customers will have to wait outside the store in a line. Walmart says it will mark a queue at a single-entry door. Walmart also says, "Once a store reaches its capacity, customers will be admitted inside on a '1-out-1-in' basis."
Walmart also says it will adding one-way movement through the aisles in its stores starting next week in select stores. This will achieved using floor markers and direction from Walmart associates.
Walmart shoppers will also be directed to exit a different door than they entered to help lessen the instances of people closely passing each other as the enter and leave the store.
These types of procedures are likely to be copied at other retailers to help reduce the spread of the virus. Many store aisles are narrow for people to get far enough apart. Retailers are also concerned about keeping their employees healthy.
Image: Walmart