U.S. Forever Stamp Now Costs 60 Cents
Posted on August 5, 2022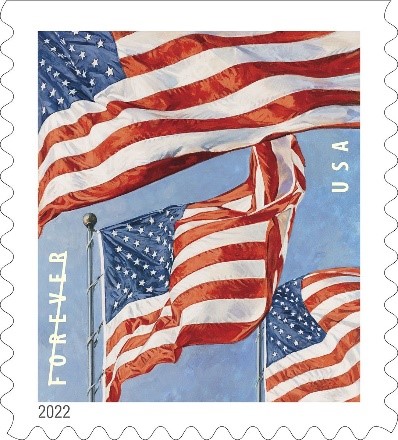 The price for a U.S. Forever Stamp has increased to 60 cents. The previous price was 58 cents. The price increase went into effect on July 10, 2022.
The price increase was approved by the Governors of the U.S. Postal Service. The price of a postcard stamp was also increased to 44 cents.
The new U.S. Flag Forever stamp is pictured above. The three flags represented on the stamp are shown as if on poles arranged in a circular formation. Laura Stutzman was the stamp designer and illustrator. Ethel Kessler was the art director.
The U.S. Postal Service said in a statement, "The American flag has long symbolized the strength and spirit of our nation. In 1916, President Woodrow Wilson issued a proclamation establishing June 14 as Flag Day, which Congress officially designated in August 1949. Today, the American flag remains a powerful symbol."
Image: U.S. Postal Service
---
More News from Shoppers Shop