Kohl's Reveals 2021 Holiday Toy List
Posted on November 3, 2021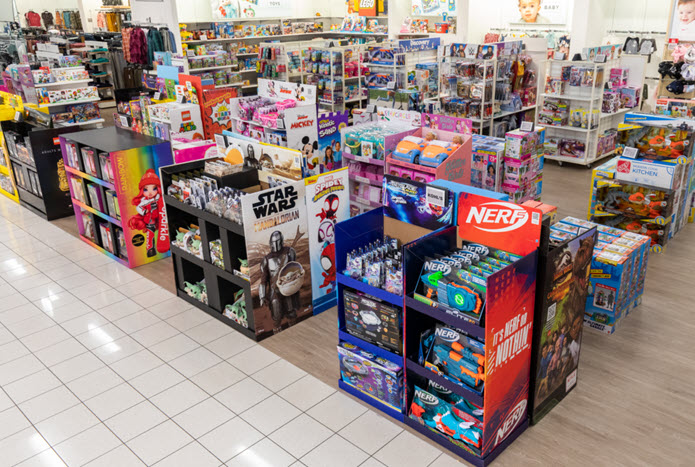 Kohl's has revealed its 2021 list of hot holiday toys. The list includes dolls, crafts, STEM, building toys, action figures and more. LEGO dominates the building toy category with the exception of Lincoln Logs.
Kohl's suggests looking for Kohl's Cash earning periods during holiday sales and using its offers like the Kohl's Rewards and the Kohl's Card for the opportunity for extra savings.
The toy list is available on the Kohl's Toy Box section of its website.
Kohl's 2021 Toy list
Preschool Toys
Hot Wheels Race Cat and Track Table
Cocomelon Plush Dolls
Fisher Price 4 in 1 Robot
Little People Ride Ons
Little Tikes Basketball Hoop
Little Tikes Instruments
LIttle Tikes Trampoline
Step2 Modern Cook Play Kitchen
Step2 Paw Patrol Coaster Ride-On Car and Ramp
Step2 Shopping Carts
Paw Patrol Sub Patroller
Melissa & Doug Delux Ice Cream Set
VTech Discover Desk
Dolls and Accessories
Belle & Wardrobe or Cinderella & Major Playset
Barbie Doll and Fiat 500 Vehicle
Barbie Dreamtopia Princess, Pegasus & Chariot
Barbie 3-in-1 DreamCamper
Barbie Dreamhouse
Barbie Fab Friends Styling Head
Disney Princess Styling Heads
Glitter Girl Dolls
L.O.L Surprise! O.M.G Movie Magic Studios
Rainbow High Girls
Spirit Untamed Miradero Festival Night Set
Lego and Building Sets
LEGO City Ice-Cream Truck Set
LEGO Disney Princess Belle and the Beast's Castle
LEGO Harry Potter Hogwarts: First Flying Lesson, Kohl's Exclusive
LEGO Marvel Avengers Wrath of Loki Set
LEGO Minecraft The Crafting Box 3.0 Building Kit
LEGO Friends Panda Jungle Tree House Set
LEGO Star Wars: The Mandalorian The Child Set
LEGO Super Mario Bowser's Castle Boss Battle
Lincoln Logs
Board Games and Puzzles
Bulls-Eye Ball
Candy Land
Connect 4
Go Pop
Guess Who
Monopoly
Operation
Sorry!
Super Mario Blow Up Shakey Tower
Uno
Uno Attack
Uno Dare!
Action Figures and Vehicles
DC Comics 6 Pack Action Figures
Hot Wheels Custom Car
Hot Wheels Monster Jam T-Rex Volcano Arena
Jurassic World Dinosaurs
Spiderman Action Figures and Playsets
Star Wars Collectibles
Super Mario Ship Playset
Monster Jam El Toro Loco
Hot Wheels Track Builders & Playsets
Monster Jam Truck Wash
Arts & Crafts
Creativity for Kids Activities
Just My Style Custom Jewelry Carry Case
Kid Made Modern Ultimate Art Collection
Kinetic Sand Activity Kits
Nickelodeon Unboxing Slime Kit
Playdoh Activity Kits
STEM and Action Toys
Discovery #Mindblown Toys & Kits
Discovery Toys & Kits
Educational Books
Hasbro Nerf Stratobow
Osmo STEM Kits
Ryan's World STEM Toys
Sharper Image RC's & Gaming Toys
Sporting Goods and Outdoor
Huffy Neowave Scooter
Jetson Jupiter Folding Kick Scooter
Land Rover Discovery Ride On
Pacific Cycle 16" Kids Bikes
Trampolines
Voyager Electric Scooter
Voyager Hover Board
Image: Courtesy of Kohl's
---
More News from Shoppers Shop