Pepperidge Farm Unveils Finding Dory Goldfish Crackers and Gay Pride Packaging
Posted on June 18, 2016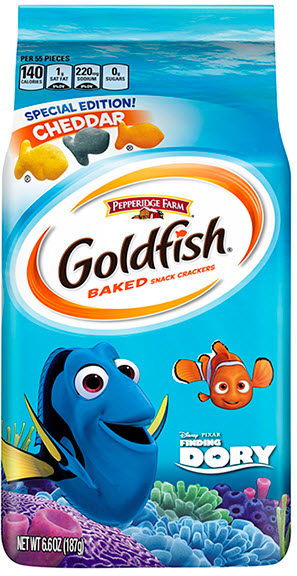 Pepperidge Farm has launched new Finding Dory Goldfish crackers to coincide with the arrival of Finding Dory in theaters. The crackers feature Finding Dory packaging and a special blue Goldfish cracker.
Pepperidge Farm thought the combination of its Goldfish crackers and the Disney-Pixar ocean-themed animated film were a good idea. Pepperidge Farm CMO Chris Foley told Adweek, "it was a good fit for us because, well, we're a fish." The film is already headed for a huge weekend opening.
Goldfish will also launch a multicolored gay-friendly logo this summer. The logo says "Smiles for all families." Adweek notes that Pepperidge Farm is also supporting pride parades in several cities this summer.
Goldfish crackers also launched> an organic wheat version earlier this year.
Photos: Pepperidge Farm
---
More News from Shoppers Shop