Kellogg's to Launch Baby Shark Cereal
Posted on August 3, 2019
Baby Shark Cereal will soon be in stores. Kellogg's has collaborated with Pinkfong to launch a cereal inspired by the catchy children's music video called "Baby Shark."
The cereal features different colored flavored rings and marshmallows. The box says it is "berry fin-tastic."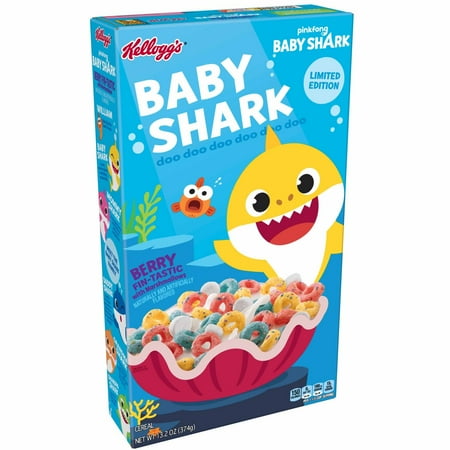 A report in People says the cereal will first be exclusively sold at Sam's Club starting on August 17 for $5.98 for a two-pack. It will then be sold by the box at Walmart in September.
The cereal follows the launch of the Baby Shark Plus Toy last year. Pinkfong can likely continue to increase its brand and Baby Shark merchandise as the video has over 3 billion views. You won't be able to run away (doo doo doo doo doo doo) from all the Baby Shark merch.
They tried the new cereal live on a local CBS station.
Where to Buy: Walmart
More Interesting Products