Megalodon Storm Monster Jam Vehicle Drives on Water and Land
Posted on October 11, 2020
This toy combined a giant prehistoric shark with a truck. What's not to love? The Megalodon Storm is an all-terrain remote control vehicle from Monster Jam.
Here are some of its features:
Drives on water and land thanks to its water-resistant design and large lightweight tires
USB rechargeable
It has a top that resembles a truck and says MEGALODON!
It has a 2.4 Ghz frequency and can be controlled from up to 100 feet away with the remote controller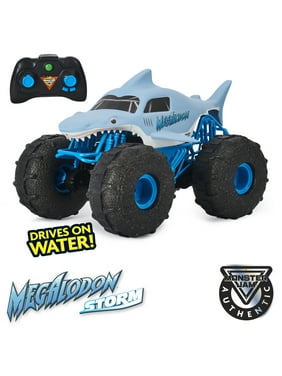 Megalodon Storm made the Amazon 2020 Top Toys and Walmart 2020 Top Toys lists this year. It is available for purchase from Walmart.com.
Here's an action video.
More Interesting Products