Hallmark to Launch Justin Bieber Greeting Cards in April
Posted on March 1, 2012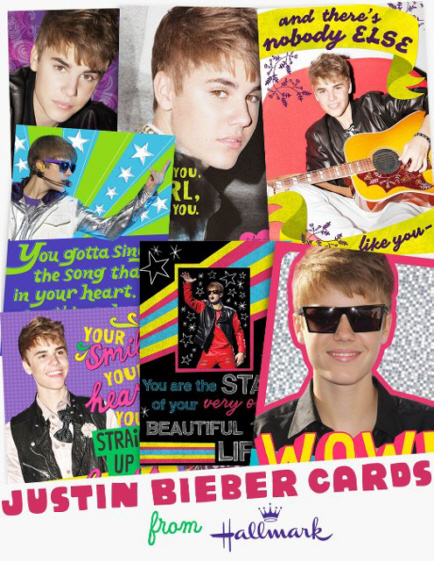 Hallmark announced it has partnered with Justin Bieber for a line of greeting cards. The large collection of 48 cards will launch in April. Hallmark says the cards will provide Beliebers with a new way to share Bieber Fever with friends and family members.
The cards will range in price from $2.57 to $9.99. They will come in bright colors and each card will contain photographs of Justin Bieber. The cards contain messages like, "Hope your big day rocks like never before," "You must be one of my biggest fans 'cause you blow me away, girl!" and "Your smile, your heart, your straight-up coolness."
One of the cards (pictured below) simply says "Wow" on the cover with a photograph of Justin Bieber wearing sunglasses. The inside of the card reads, "Look at you! You've got that birthday thing going on. Hope It's Happy!"
The Bieber greeting cards will arrive in Wal-Mart stores in April and will be available in May at Hallmark Gold Crown stores, as well as Walgreens, CVS and other stores that carry Hallmark products.
Image: Hallmark
---
More News from Shoppers Shop